Preliminary Settlement on Civic Hybrid Tire Wear Lawsuit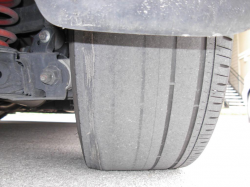 Ask a group of 2006-08 Honda Civic and Civic Hybrid owners about the suspension in their cars, and I doubt many will have nice things to say. You see the Civic has become somewhat notorious for premature and uneven tire wear due to a defective rear suspension. It's a complaint we've heard a hundred times before, but one that Honda has continually denied.
A few years back, the manufacturer was hit with a class-action lawsuit claiming they knew the rear suspension could cause this problem but refused to inform consumers about it. The problem was so severe in some cases that owners reported not only having to replace their tires, but busted control arms as well.
Following a three-year battle in court, Honda finally caved and agreed to a settlement covering the defective rear suspension in the 2006-07 Civic and the 2006-08 Civic Hybrid. Technically Honda never admitted to the problem, but as part of the settlement they will reimburse you on a pro rata basis if you replaced your tires due to the suspension.
Additionally, if you paid to replace a control arm on your Civic because of tire problems, Honda will also reimburse you for parts and labor.
Time to start digging out those service records.
How to File a Claim
The deadline to file a claim is January 16, 2014 so you must act fast. For details about the settlement, which cars are covered and information on how to start a claim visit the official Honda Civic Tire Wear Settlement website.