Toyota Hybrid Power Steering Failure Recall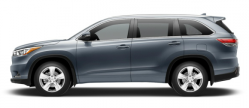 Toyota says the power steering circuit board in 110,000 vehicles might have damaged on arrival, prompting a recall. The circuit board was probably messed up during assembly and can cause a sudden loss of power steering. If you're traveling at slow speeds and your power steering suddenly goes away, pulling over to the side of the road is going to feel like you're steering through a vat of caramel.
That sounds delicious, by the way.