Toyota Prius Mileage Lawsuit Not Out of Gas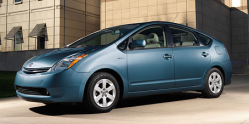 Toyota once said that the Prius is "harmony between man, nature and machine" but that all sounds a bit out of tune to Greg Reynante. Mr. Reynante filed a lawsuit alleging Toyota deliberately misled consumers about the fuel efficiency of the 2004–2007 Prius.
The lawsuit says the manufacturer ignored factors such as weather, air conditioning and other things that can hurt MPGs. Toyota says it followed the EPA guidelines.